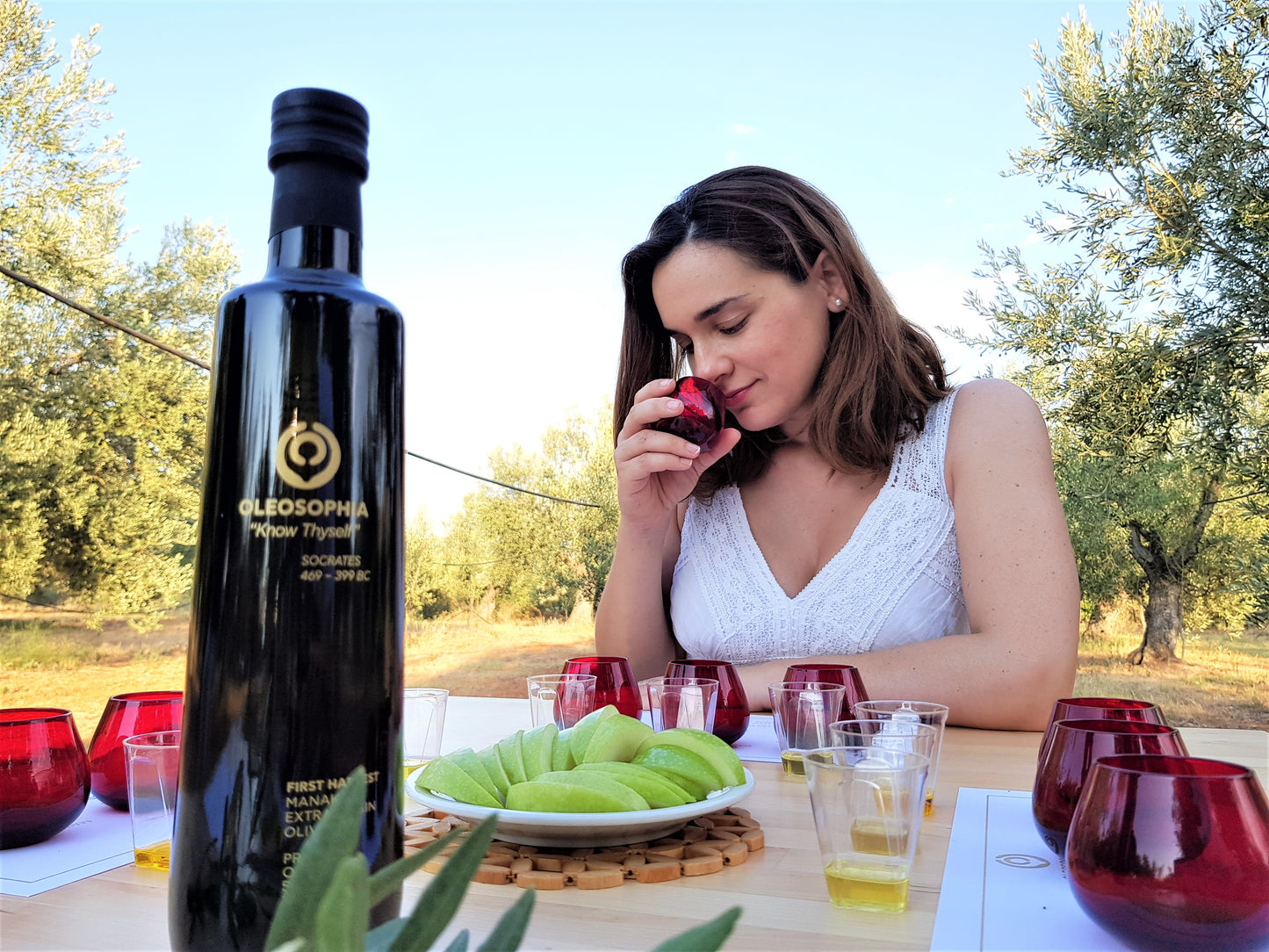 Owners: Manginas Family
Location: Kalentzi, Corinthia, Greece
Producing: Olive Oil
Combination for the ages 
Marianna and George are the founders behind Oleosophia. She is a city girl with a physicist degree from Athens, he is an IT engineer coming from an agricultural family. In 2016 they met and Marianna was blown away by the extra virgin olive oil she tasted in the house of George's family. Soon she realised her career as a physicist wasn't what she was meant to be doing and in 2018 Oleosophia was born. 
Together with George they decided to focus full time on their First Harvest Extra Virgin Olive Oil business. Not just any business, especially living in the local village of Kalentzi, about 100km from Athens. They've access to a very specific variety of olive: Manaki. This variety is considered hyper sensitive; meaning it can't grow anywhere else in the world. Huge effort is put in the Manaki variety and only the First Harvest 100% green olives are used by Oleosophia for their Extra Virgin Olive Oil. 
Industry education, workshops and visits
The location of Oleosophia's cultivation and the usage of a hyper sensitive variety, consumer knowledge is limited. This is where Marianna dove in and reschooled herself from being a physicist and becoming an official certified Olive Oil Sommelier. The certification done by the Olive Oil Times Education Lab & International Culinery Centre in London allows her to share loads of information with anyone who'd like to listen. 
Via the Instagram of Oleosophia they frequently share insights on everything olive oil. Not only do they focus on their own; they discuss everything! From the roots of the olive tree, the cultivation, varieties, to the production process. Everything can be explained by Marianna. Another option is to visit the olive grove of Oleosophia in Corinthia together with us! Here you'll become an olive oil sommelier for a day. Are you interested in learning more regarding this? Feel free to reach out to us or contact Marianna directly through their Instagram.